Impact Series Rear Bumper w/Swing Away Tire, Rotopax & Cooler Mounts
TBP Exclusive
Fits:
1966-77 Ford Bronco
(0 customer reviews)
Submit Your Own Review
Description
New Impact-Style Rear Bumper w/Swing Away Tire Rack, Cooler Rack, and Rotopax Fuel Pack Holder for 66-77 Early Ford Bronco. COMES BARE METAL! This newly redesigned bumper will now accept up to 3 Rotopax Fuel/Storage Packs (requires Rotopax Mount & Extension). It will also hold a full size cooler above the Rotopax and a full size or oversize spare tire. Featuring a cam-lock latch design to hold your tire, cooler and Rotopax secure and now with an additional safety latch assembly to keep everything even more secure.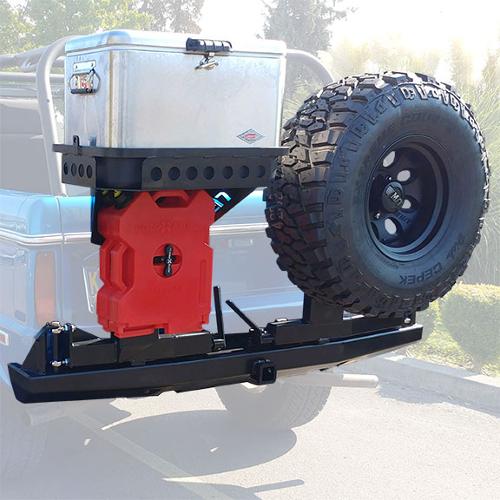 Prop. 65 Warning for California Residents
WARNING: This product may contain chemicals known to the state of California to cause cancer, birth defects, or other reproductive harm. Learn more
Fast Shipping
Most orders ship same day
*Express shipments are not time guaranteed in the event of delays due to weather or acts of nature.
In-House Experts
90+ years combined
Competitive Pricing
The leader in price & quality
Hassle-Free Returns
Love it or return it*
*See Return Policy
Buy With Confidence
Secure checkout and site
Have a Question?
Emails Us
(800) 749-5028
Hablamos Español