TBP Rock & Roll 2018 Hooded T-Shirt
(0 customer reviews)
Submit Your Own Review
Description
Celebrate the 2018 TBP Rock & Roll with this limited edition hooded t-shirt. It's great for cool summer nights! Features Tom's Bronco Parts Rock & Roll 2018 logo on the back and our new Tom's Bronco Parts flag logo on the front pocket. 100% cotton, this shirt is not pre-shrunk. We recommend purchasing one size larger than you typically wear if you prefer a loose fit. Limited to stock on hand.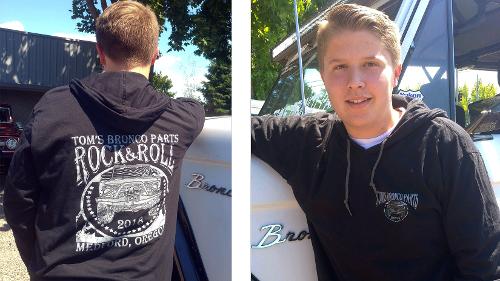 Prop. 65 Warning for California Residents
WARNING: This product may contain chemicals known to the state of California to cause cancer, birth defects, or other reproductive harm. Learn more
Fast Shipping
Most orders ship same day
*Express shipments are not time guaranteed in the event of delays due to weather or acts of nature.
In-House Experts
90+ years combined
Competitive Pricing
The leader in price & quality
Hassle-Free Returns
Love it or return it*
*See Return Policy
Buy With Confidence
Secure checkout and site
Have a Question?
Emails Us
(800) 749-5028
Hablamos Español