Steel Radiator Fan Shroud, V-8, Black, 3'' Body Lift
Steel Radiator Fan Shroud, V-8, Black, 3'' Body Lift
TBP Exclusive
Fits:
1966-77 Ford Bronco
Description
Custom Fan Shroud for early Broncos with 3" Body Lift. This steel, powder-coated fan shroud includes a custom bracket system that allows clearance of the fan when using a 3 inch body lift. This new fan shroud is a must for the 66-77 Classic Ford Bronco. The fan shroud is made of metal, comes powder coated and won't crack like the original fiberglass shroud.
Remember the fan shroud is crucial in cooling the engine by helping direct the air being pulled through the cooling fins in the radiator core. Without the shroud the air is not directly pulled through the core and loss of cooling is a factor. The shroud is also an important safety feature, protecting you from the fan blades when the engine is running. This fan shroud is designed to fit a factory 18 inch mechanical fan.
NOTE: This shroud will bolt directly onto factory or TBP copper 3-core radiator. This fan shroud will require drilling new holes through the shroud and radiator when installing on an HD Aluminum radiator. This shroud will need modification for use with our Aluminum 3-core radiator.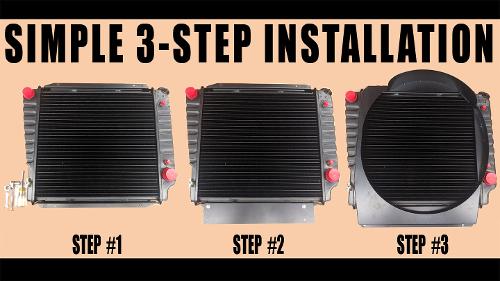 Prop. 65 Warning for California Residents
WARNING: This product may contain chemicals known to the state of California to cause cancer, birth defects, or other reproductive harm. Learn more
Fast Shipping
Most orders ship same day
*Express shipments are not time guaranteed in the event of delays due to weather or acts of nature.
---
Expert Service
90+ years combined
---
Competitive Pricing
The leader in price & quality
---
Easy Returns
Love it or return it*
*See Return Policy
---
Buy With Confidence
Secure checkout and site
Have a Question?
Emails Us
541-779-1339
Hablamos Español.