Welcome
»
TBP Rock & Roll 2018 - Trail Run, Show & Shine, Wine Cruise July 27-28 2018
TBP Rock & Roll 2018 - Trail Run, Show & Shine, Wine Cruise July 27-28 2018
(0 customer reviews)
Submit Your Own Review
Description
ADDITIONAL EVENT INFORMATION HERE
Join us for our 2018 TBP Show & Shine at our warehouse in Medford, Oregon. $20 pre-registration fee includes a limited edition event t-shirt and dash magnet.
TBP McGrew Trail Run - Friday, July 27th - Meet @ 8:00 AM, Leave PROMPTLY@ 8:30 AM

This will be an all day trail run on the McGrew Trail near O'Brien, OR. We have an exclusive permit for the day, so it will be just our group on the trail. Minimum 33" tires or larger and rear locker are needed to run this trail. We will meet in the morning at the O'Brien Country Store and leave promptly as a group. Please bring plenty of food, water and supplies for the day.

TBP Show & Shine - Saturday, July 28th - Show Begins 9:00 PM (Staging @ 7:30 AM)

Staging begins at 7:30 AM, Show & Shine begins at 9:00 AM

Our TBP Show & Shine event will be held Saturday morning. Your registration fee includes a Bronco entry into the Show & Shine. The show will be judged by attendees and there will be multiple awards presented at the conclusion. This show is for ALL 66-77 Ford Broncos. We want your Bronco there whether it's a trailer queen, rock crawler, daily driver or a farm truck.

TBP Bronco Parts Raffle for ACCESS - Saturday, July 28th - 12:00 PM (Group Photo @ TBP to follow)

Following the Show & Shine, we will be holding a parts raffle to benefit our local ACCESS food bank. This raffle will feature a load of our most popular Bronco parts and accessories to be given away. Raffle tickets will be available at the Show & Shine (5 tickets for $1 or 5 tickets per can of food). Last year, we gave away over $4,000 in Bronco parts and gear and we hope to meet or surpass that again this year!

Winery Cruise- Saturday, July 28th - Leaves @ 2:00 PM

Our winery cruise was a great hit last year, so we decided to bring it back again this year. This time, we will bring our tour up through Gold Hill and Eagle Point areas to hit all new wineries. We will again split into small groups and have multiple tour options available. The tour will hit 2-3 locations each and will end at Agate Ridge Winery for our evening dinner & concert.

Dinner & Concert featuring The Fret Drifters - Saturday, July 28th - 6:00 PM (Concert to Follow)

To finish off this incredible weekend, we will be holding a catered Italian dinner at Agate Ridge Winery followed by a live concert by acoustic guitar wizards The Fret Drifters. Dinner is $20 per adult, kids 12 & under are FREE.
Our store will be open on Friday and during the Show & Shine on Saturday for Bronco parts and accessories purchases. If you would like multiple shirts, please purchase multiple pre-registrations at checkout. When you check out, select Local Pickup for your shipping option if you will be attending the show. If you cannot attend the show but want the shirt & magnet shipped to you please select your desired shipping method. Please note that shirts & magnets will not ship until sometime in July just prior to the show.
NOTE: Group picture will be taken on Saturday in front of Tom's Bronco Parts' warehouse immediately following the Show & Shine.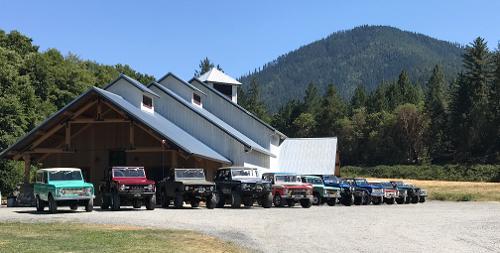 Fast Shipping
Most orders ship same day
*Express shipments are not time guaranteed in the event of delays due to weather or acts of nature.
In-House Experts
90+ years combined
Competitive Pricing
The leader in price & quality
Hassle-Free Returns
Love it or return it*
*See Return Policy
Buy With Confidence
Secure checkout and site
Have a Question?
Emails Us
(800) 749-5028
Hablamos Español